The matter of inheritance is a source of numerous disputes among families. Plenty of relatives have gotten estranged because of the division of estates and assets. However, there is something that is passed on that is not necessarily tricky. As a matter of fact, it can even strengthen bonds. Of course, we are talking about family resemblance. Despite the fact that these aesthetic qualities can be quite expected between children and parents, there is something extra special when the qualities are passed down one other generation further. What's even better is if the physical traits go together with intangible things like such as personality, talent, and success! Keep reading to find out more about the stars whose grandchildren resemble them a lot. Before we dive right in, a word of caution: some comparisons may be chillingly accurate!
Steven R. McQueen – Steve McQueen's Grandson
In the past, Steve McQueen had a daring demeanor and ruggedly handsome face which made him a massive action star in Hollywood. You probably recall that he starred in films such as The Great Escape and The Magnificent Seven. However, the icon succumbed to mesothelioma back in 1980. Many believed that he acquired the disease due to constant asbestos exposure when he was filming. He was the father of two children. Steven R. McQueen, his grandson, was named after the actor. The two share acting chops and facial features.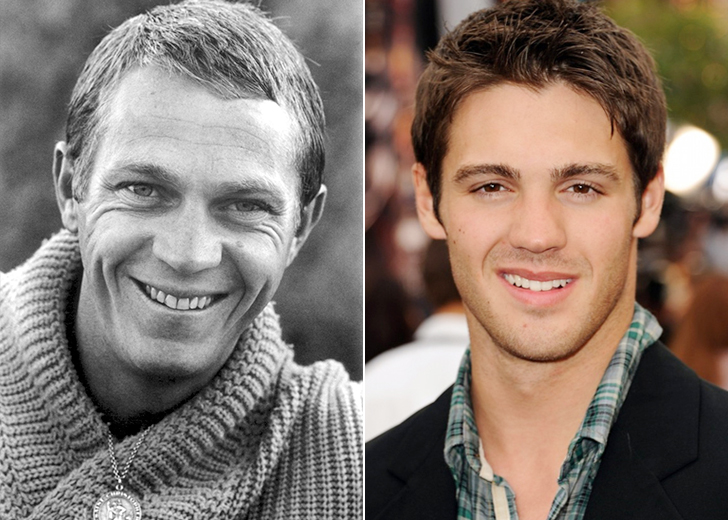 Chris Pine – Anne Gwynne's Grandson
Who isn't familiar with the hottie Chris Pine? That's right, no one. However, did you know he comes from a well-known family of Hollywood actors? Yup, the Star Trek star actually has parents who are both actors, whereas his grandmother was Anne Gwynne. She was best-known for starring in horror films and also for being a pin-up girl during the Second World War. The grandson and grandmother duo share the same hooded eyes and full lips. Tragically, Gwynne passed away after she suffered a stroke in 2003. She was 84 years old when she died.