Ahh, summer. Most everyone has a love-hate relationship with you, and for good reason too! For most the heat can sometimes become too unbearable and furthermore, whipping up desserts all the time to compliment the new warm weather can become a pain. No one wants to eat ice cream day in, day out. (Did I just really say that?) Take this summer from boring to not with these three super easy, no-bake dessert options that'll quickly transform your kitchen to a summer hot spot.
No Bake S'more Bars:
Here's the thing about S'mores, they only seem perfect when gathered round a roaring campfire. However, that's not the case anymore. No-bake s'more bars are exactly the summer snack you never knew you needed. Not only does it have the classic graham cracker crust but it's smothered in a bittersweet ganache topped off with those perfect mini marshmallows.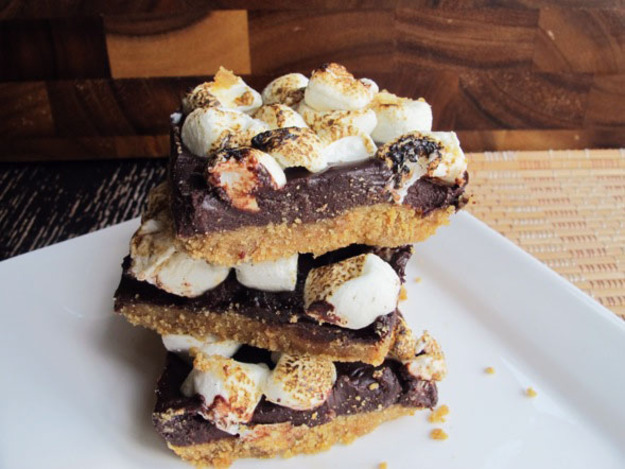 Ingredients:
14 ounces graham crackers, finely ground
1 tablespoon packed light brown sugar
2 tablespoons water
13 tablespoons (6 1/2 ounces) unsalted butter, melted
1/4 teaspoon salt
12 ounces bittersweet chocolate, finely chopped
1 cup heavy cream
1/4 teaspoon smoked salt, optional
8 ounces mini marshmallows
Directions:
Mix graham cracker crumbs, sugar, salt, water, and melted butter in a large bowl until fully moistened. Firmly press into the bottom of a 9-by-13 inch baking dish.
Heat the chocolate and cream inside of a medium heatproof bowl in the microwave or over a pan with barely simmering water, occasionally stirring, until smooth and melted. Spread over the crust and sprinkle with salt and marshmallows to finish.
Chill for about 30 minutes or until the chocolate is firm. Use a handheld torch to lightly brown the marshmallows. Cut into squares, serve, and NOM-NOM-NOM.
Light and Easy 5-Minute Fruit Mousse:
When a recipe only calls for three ingredients, people tend to get a wee bit excited. All you need is a food processor and five minutes out of your day. Does it really get any better than that?
Ingredients:
8 1/2 ounces frozen berries or other fruit
2 tablespoons of sugar (or use sugar, honey, maple syrup or stevia extract)
1 large egg white
Fresh berries and whipped cream for serving (optional)
Directions:
Add fruit to the bowl of the food processor. Mix to a rough puree for about one minute. Add the sugar (or any sweetener of your choice) and pulse briefly to fully combine. If you plan to use a different sweetener, then be sure to add small amounts at a time to taste.
Add the egg white and process until smooth and fluffy – for about 2 to 3 minutes, the mixture should have lightened in color and doubled or tripled in volume.
Spoon the mousse into glasses of your choice and top off with fresh berries and/or whipped cream. Either serve immediately or store in the refrigerator for only up to two hours.
No Bake Chocolate Cheesecake:
While baking a cheesecake is totally time consuming and messy, the no-bake cheesecake option is a lifesaver. As it doesn't require hours upon hours of your time and the added benefit of a little mess in the kitchen sounds like a win-win here.
Ingredients:
10 ounces chocolate cookie wafers
2 tablespoons granulated sugar
8 tablespoons unsalted butter, melted
3 8-ounce packages cream cheese, softened
1 cup plus 2 tablespoons confectioners' sugar
2 teaspoons vanilla extract
1/4 cup sour cream
7 ounces bittersweet chocolate, melted
Cocoa powder for dusting
Directions:
Pulse cookie crumbs and granulated sugar in the food processor until fine. Place into a large bowl and add melted butter until moistened. Firmly press into bottom and 1 1/2-inches up sides of an 8-inch spring-form pan.
Using a mixer with a paddle attachment, beat the cream cheese and sugar on medium speed until light and creamy, about 1 minute, scrape the sides of bowl if necessary. Reduce speed to low and mix in vanilla, sour cream, and melted chocolate until smooth.
Spoon the mixture into the crust and smooth out the top. Chill until set, typically about 4 hours. Dust with cocoa powder and let the finished product sit for 30 minutes at room temperature before you serve and gobble everything up!
In Conclusion:
The usual summer dishes can quickly lose their appeal, especially when children are around. Turn to these three no-bake options and you'll quickly become a superhero in the kitchen!